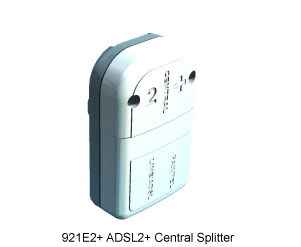 921E2+ - ACS Central Filter


Our Price: $28.00 AUD

Model 921E2+ Fixed Wire IDC and 8P+8P
[ CENTRAL filter/ splitter ]

This is the central splitter version of the first filter in Australia to be certified to the strict new ADSL2+ Australian Standard AS/ACIF S041:2005. Full 2.2MHz bandwidth ADSL2+ design.

For connection by a licenced cabler on the incoming telephone line to provide an ADSL signal 'clean' of any unwanted noise or loading and an isolated connection to all telephones/ fax machines/ dialup modems.

Internal insulation displacement push down tool fixed wire terminals and external RJ45 8P4C 'LINE/ADSL' and 'FAX/TEL' connections for installation convenience.

A maximum of 1 can be used per installation.