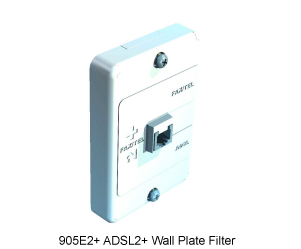 905E2+ - ACS Wall Plate Filter/Splitter


Our Price: $28.00 AUD

Model 905E2+ 8P+8P wall plate in-line filter/ splitter.
[ Wall Plate filter / splitter ]

This is the wall-plate splitter version of the first filter in Australia to be certified to the strict new ADSL2+ Australian Standard AS/ACIF S041:2005. Full 2.2MHz bandwidth ADSL2+ design.

Connect the filter between your telephone/ fax/ dialup modem and the incoming telephone line to keep the incoming line carrying the ADSL signal 'clean' of any unwanted noise or loading.

All telephones/ fax machines/ dialup modems using the line must be connected through an in-line filter.

A maximum of 3 can be used per installation.